Each carmaker is unique and has different requirements in electronic control unit (ECU) software architecture. Our understanding and knowledge of the major carmakers allows us to deliver specific, OEM-optimized software solutions.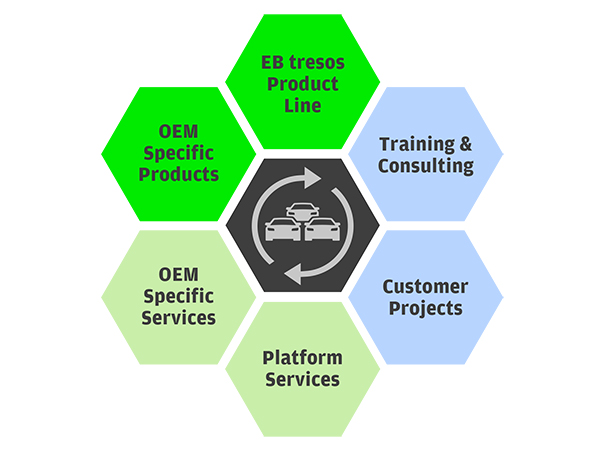 Elektrobit is a full-solution provider, delivering the right package to meet the needs of all leading carmakers. We provide the ideal combination of standard and OEM-specific products and services.
Customer support, training, and consulting complete our comprehensive offering, putting you in the fast lane for each carmaker ECU project.
Benefits
Our OEM solutions offer:
A holistic ECU software approach that addresses the needs of all major carmakers
Products, services, and support packages tailor-made for each use case
Full life cycle support; Elektrobit is always on your side, from the beginning of the ECU software project all the way through to mass production
Faster time to market through Elektrobit's optimized and proven customization processes
An ideal portfolio for software integration projects, e.g., for domain controllers
Elements of OEM solutions
EB tresos product line
As the basis for all our offerings, the EB tresos product line provides efficient and scalable AUTOSAR-compliant and OSEK/VDX compliant products for ECUs. It encompasses ECU basic software, operating systems, Functional Safety solutions, and tools for software configuration and testing. Learn more here.
AUTOSAR, FlexRay, Ethernet, or ISO 26262 – €the EB tresos product line complies with these and many more standards and works with key technologies used by the automotive industry.
OEM-specific products
Carmakers have individual software requirements that are not covered by AUTOSAR. To address their needs, we developed products extending our AUTOSAR basic software, such as Software Components (SWCs) and Complex Device Drivers (CDDs). And our flexible basic software allows us to exchange AUTOSAR basic software modules with OEM specific modules, for example, in the areas of diagnostics, security, and communication stacks.
Platform services
We provide ECU project solutions for specific hardware architectures/platforms, enabling the development of automotive ECUs for production in carmaker series projects. These services are available for the entire software stack and at the module level to address a wide variety of scenarios. We provide integration packages consisting of single modules and bundled modules, like MCALs. Our qualification packages target module testing and use case testing of the complete software stack on specific microcontrollers. We also offer simple demo applications that make it easier to start a project.
OEM-specific services
As a full-solution provider, we always keep the OEM specific service needs in mind. We work to ensure our customers can easily set up and run projects for specific carmakers. We integrate our EB tresos product line and our OEM specific products together with OEM modules on the customer's target. Our complete OEM specific services include:
Incorporating OEM requirements
Integrating third-party and Elektrobit products
Integrating OEM modules
Provisioning make-tool chain to conform to required compilers and options
Testing software with OEM test suites
Configuring software according to project requirements
Implementing applications, bootloader, bootloader-updater, and bootmanager
Customer projects
We support our customers throughout the ECU project life cycle by taking over responsibility for specific parts of projects or even the entire project, as needed.
To do that, we offer dedicated services with an assigned technical lead and we provide IT infrastructure, including:
A project team that works with the customer
First-level support teams, available globally to provide fast support and handle initial calls
Second-level support teams, to manage complex issues
Product development engineers, to take care of product-related issues that require development
With our global team of trained experts, you'€™ll always have the assistance you need on your project, no matter where you are, no matter how complex the topic. We enable you to achieve your project goals with the assurance of Elektrobit´s high-quality products and services .
Training and consulting
We offer basic AUTOSAR training, providing insights into the function and interaction of AUTOSAR software modules. In addition to covering the new possibilities offered by AUTOSAR applications, our training covers migration scenarios for existing applications.
Aside from offering basic training, we consult with carmakers and suppliers to bring the latest automotive technologies into the car. We stand by your side on AUTOSAR architecture, safety concepts, Ethernet, on-board and off-board diagnostics, operating systems, application run-time, and many other in-car-related software technologies.